Cineplex.com: BOGO – Buy a Movie Ticket with VISA Checkout, Get Next Movie Free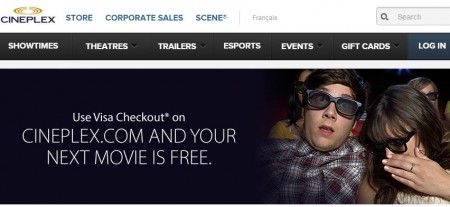 Use VISA Checkout on Cineplex.com and your next movie is FREE!
Buy a movie ticket for a first run feature film at Cineplex.com using Visa Checkout and you'll receive one unique voucher code valid towards a Free General Admission ticket (BOGO).
There's a limit of one voucher code per transaction regardless of the number of tickets purchased. The offer is valid until February 15, 2016 or until 50,000 voucher codes have been issues (whatever is earlier).
I tested the offer before posting it and it's still available. The coupon code is on the last page of the PDF confirmation form.
With Visa Checkout there's no need to fill out your payment and shipping info every time you make a purchase. All you have to do is register any of your major credit, prepaid or Visa debit cards once. When it's time to checkout, just enter the username and password you registered with. How's that for convenience?
Click here to visit Cineplex.com for more details about this offer.