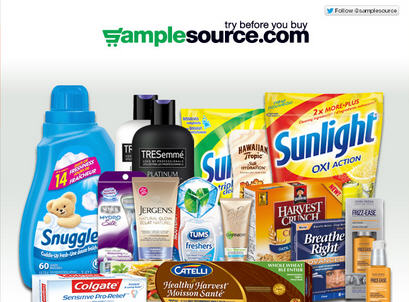 SampleSource.com gives away FREE samples for you to "try before you buy and help make smart shopping decisions"!
They just released a bunch of new sample packs today so go get your FREE samples now while quantities last. Hurry, although they have hundred of thousands of samples available, samples are going out of stock very quickly.
There's a limit of one package per address and email. Duplicate orders will be removed. Your samples should arrive in 4-6 weeks.
How it works:
1. Register
Signup and tell us a bit about yourself, your lifestyle, and what products you like.

2. Pick your samples
Choose what you would like to try from a menu of available samples that match your profile.

3. We ship them to you!
We pack up your samples and send them to you absolutely free so you can try and rate them!
Click here to visit SampleSource.com to get FREE samples.
Enjoy the freebies!