Toys R Us: FREE Play Day Event (Sept 27 starting at 11am)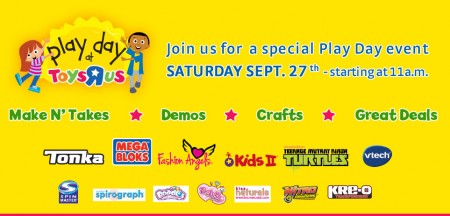 Reminder Update: I originally blogged about this 10 days ago. Here's a friendly reminder that the free event takes place today. Enjoy!
Play Day at Toys R Us is back this Saturday, September 27, 2014 starting at 11am local time. Visit your local Toys R Us store for Make N' Takes, crafts, product demos, giveaways and more!
No purchase necessary. Recommended for kids 1-12 years of age. While quantities last! Excludes the Cedarbrae Mall location & Express stores.
Activities may vary by store.
  MEGA BLOKS MAKE N' TAKE : Build and take home a Mega Bloks Butterfly or Power Rangers Sword!
PLUS get a FREE Hello Kitty OR Power Rangers Mini-Figure.  NINJA TURTLES TRAINING CAMP : Complete our basic Teenage Mutant Ninja Turtles Challenge and Trivia to get
your FREE Ninja Turtles Bandana! Selection varies.  TONKA DUMP TRUCK PAPER CRAFT : Build your own papercraft Tonka Dump Truck – in just 5 easy steps!  FASHION ANGELS TAPEFFITI MAKE N' TAKE : Create a custom headband or bracelet with the Fashion Angels Tapeffiti™.
Choose your favorite Tapeffiti rolls and decorate any way you like!  COOL TOY DEMOS : Try out some of the hot new toys this season! Including: NEW Tamagotchi Digital Friends, Boomer the
robo-pet Dinosaur, Zuppies the digital dog, Kinectic Sand, infant toys from Bright Starts, Vtech and MORE!PLUS, FREE giveaways – Kiss Naturals Lip Balm, KREO Transformers, Spirographs, Beados, Shopkins, Gelarti and more!
Click here to visit Toys R Us' website for more details.
Click here to find a Toys R Us Store near you.
Click here to shop Toys R Us online.