Reebok.ca: 40% Off Regular-Priced Items through Goodlife Link (Sept 8-14)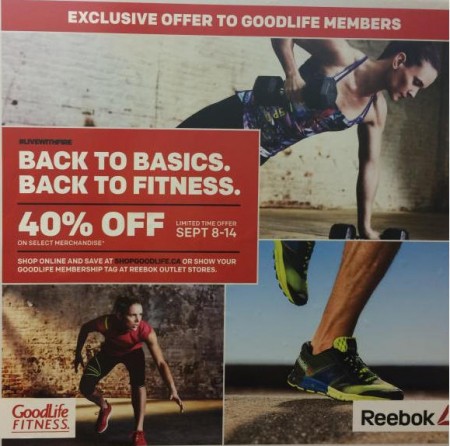 Goodlife Fitness has teamed up with Reebok to offer 40% off most regular-priced merchandise! This offer is available online only at www.shopgoodlife.ca from September 8-14, 2014.
You don't have to be a Goodlife Fitness member or anything to take advantage of this offer. The offer is meant for GoodLife members only, but anyone can take advantage of this deal if you go to www.shopgoodlife.ca. The 40% off discount will be automatically applied at checkout on eligible regular-priced items. I've tested it out and can verify that it works. This special offer can not be stacked with any promo codes or other offers.
This is going to be a very popular sale so shop early for the best selection of styles and sizes.
Discount applies to regular priced items only & when in shopping cart. Some product exclusions apply. Excluded items will not be discounted during checkout.
Reebok.ca offers free shipping on all orders.
Click here to visit shop Reebok.ca now through Goodlife's special link.