Boston Pizza: Eary Bird Sale – 5 Free Kids Meals for $5 (Aug 18-23)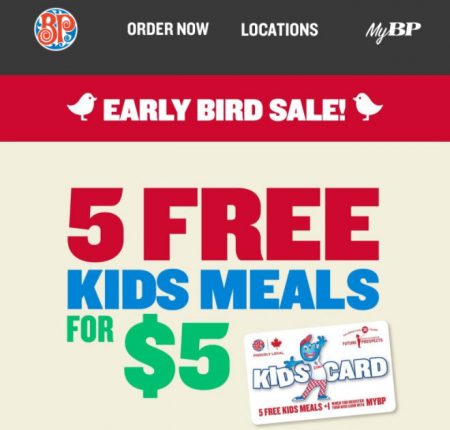 Boston Pizza's popular Kids Card promotion is back!
Take advantage of the Early Bird Sale and get it one week early!
A $5 donation gets you 5 FREE Kids Meals! Buy your digital Kids Card one week early from August 18-23, 2020. As a bonus, get one (1) extra FREE Kids Meal when you register your card with MyBP. Kids Cards can be redeemed for dine-in only.
All donations go to Boston Pizza Foundation Future Prospects a program that helps support kids in communities across Canada by providing more than 200,000 hours of mentorship with role models each year. Every $5 donation equals one more hour of guidance and inspiration for a kid in need.
A Kids Meal normally costs $6.99, so you'll save $34.95 if you get all 5 free kids meals. This is a good deal and a great cause so support it if you can. You can buy the Kids Card online now.
Kids meals loaded onto Kids Cards are each valid for one (1) FREE $7.99 kids meal with each minimum purchase of $16 (excluding taxes & gratuities).  In Quebec, the card is valid for one (1) FREE $5.99 kids meal, with each minimum purchase of $14 (excluding taxes & gratuities). Valid for dine-in only. Upcharges apply for 'Bigger Appetites' Meals and all add-ons. Not valid with any other coupon or promotional offer. Card expires on June 30, 2021. Please present card or card number before ordering. No cash value. Price includes all applicable taxes.

Boston Pizza, the Boston Pizza Roundel, MyBP and Boston Pizza Foundation are registered trademarks of Boston Pizza Royalties Limited Partnership, used under license. Future Prospects Silhouette Design is a registered trademark of Boston Pizza Foundation. © Boston Pizza International Inc. 2020.
Click here to visit Boston Pizza's website for more details or to Buy Online.
Click here to find a Boston Pizza restaurant near you.