McDonald's: Summer Drink Days – $1 Any Size Soft Drink & More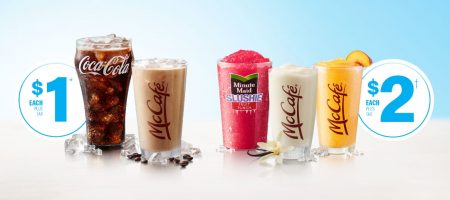 McDonald's popular "Summer Drink Days" promotion is back!
Quench your thirst for summer with these deliciously refreshing deals. Choose from their $1 or $2 options to keep you cool all summer long.
For a limited time, enjoy any size fountain drink or a Medium McCafé Premium Roast Iced Coffee for only $1 plus tax, or a Medium Minute Maid Slushies, a Small Iced Frappé, or a Small Real Fruit Smoothie for just $2 plus tax.
Here's what's included: 
$1 for Any Size Fountain faves: Choose from Coca-Cola, Diet Coca-Cola, Sprite, Nestea, Fruitopia, or Barq's Root Beer
$1 for Small or Medium Premium Roast Iced Coffee
$2 for Small Real Fruit Smoothies: Choose from Strawberry Banana, Blueberry Pomegranate, Mango Pineapple, or for a limited time only Freestone Peach
$2 for Small Iced Frappés: Choose from Coffee Iced Frappé or Vanilla Chai Iced Frappé
$2 for Small or Medium Minute Maid Slushies: Choose from Blue Raspberry or Fruit Punch
At participating McDonald's restaurants in Canada. Excludes any meals, pairings or other offers.
Click here to visit McDonald's website for more details.