WestJet: Black Friday Sale (Book by Dec 1)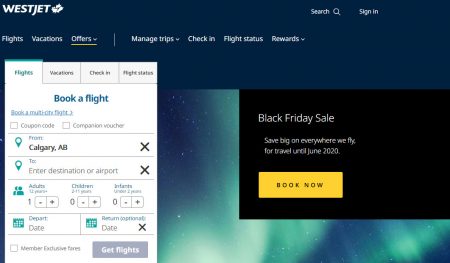 WestJet has started their Black Friday Sale a week early!
Save big on everywhere they fly for travel until June 2020. Shop for experiences rather than things.
Check out their incredible deals on flights everywhere they fly, then check-in for your dream getaway.
Book by: December 1, 2019 (11:59 p.m. MT)

Travel Until: June 24, 2020

Blackout dates:

Canada, U.S., Mexico, Caribbean: May 14-16 and 18, 2020
Europe: April 9-13, 16-19, May 14-16 and 18, 2020

Restrictions apply. Lowest fares can be found on the following travel days. Fares on other days may be higher:
Canada: Tuesdays, Wednesdays, Thursdays, Saturdays
U.S.: Tuesdays, Wednesdays
Mexico and Caribbean: Mondays, Tuesdays, Wednesdays
Europe: Mondays, Tuesdays, Wednesdays, Sundays
Travel Tips:
Click here to visit WestJet's website to book a flight now or for more details
Note: Next Friday, November 29, 2019 is Black Friday! It's the day after US Thanksgiving where most offer blow-out sales to kick off the holiday shopping season. It's the busiest shopping day of the year. Most Canadian retailers offer Black Friday sales. Make sure you check the blog on Black Friday (Nov 29) and Cyber Monday (Dec 2) for a comprehensive list of all the best and hottest local and online deals.