Air Canada: Canada Day Sale (Book by July 3)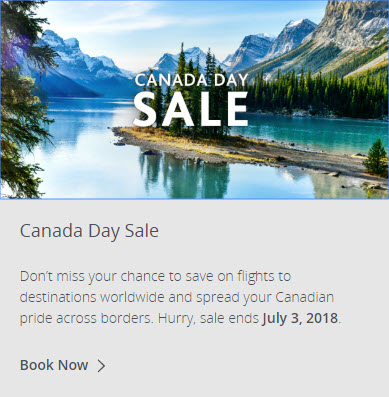 Air Canada is having a Canada Day Sale.
Don't miss your chance to save on flights to destinations worldwide and spread your Canadian pride across borders if you book by Tuesday, July 3, 2018 at 11:59pm MT.
Book by: 3-JUL, 2018 (11:59 pm MDT)

Travel dates: 11-JUL, 2018 – 15-DEC, 2018 (Tue, Wed, Thu and Sat), 8-JAN, 2019 – 8-FEB, 2019 (Tue, Wed, Thu and Sat)

Advance purchase: purchase at least 14 days prior to your departure date
WestJet is having a similar seat sale. Check both sites to compare prices and flight selection.
Travel Tips:
Click here to visit AirCanada.com to book a flight now or for more details.