It's New Years Eve! Don't Drink and Drive! Get an UBER – FREE First Ride Promo Code!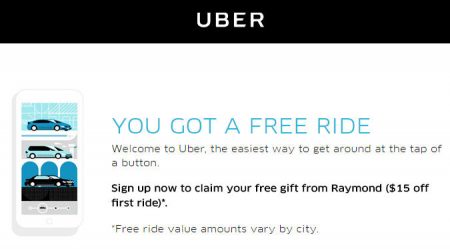 It's the New Years Eve. If you're going out tonight, PLEASE Don't Drink and Drive! It's not worth it. Be smart. Plan ahead. Find a designated driver, call someone, call a taxi – better yet, get an Uber and save! Uber is 30% cheaper than a traditional taxi ride.
Sign-up for Uber now and enter my promo code uberDealsBlog and you'll get your First Uber Ride for FREE (up to $15 CAD)!
Uber is a low-cost ridesharing option that connects you with on-demand transportation in minutes. You can ride easy knowing that all driver-partners undergo a rigorous background check process and that all Uber rides are supported by safety innovations like the "Share My ETA" feature.
I love Uber and use it all the time. I'll be taking an Uber tonight. It's NYE, it's going to be busy tonight – be patient and wait to find an Uber if you don't immediately get one. Uber will likely still be cheaper then a taxi even after surge pricing (high demand for rides).
Here's why Uber is awesome:
Cashless & Convenient: You don't need cash. The fare is automatically charged to your credit card on file – no need to tip.
One Tap to Ride: Uber uses your phone's GPS to detect your location and connects with the nearest available driver. Get picked up anywhere – usually within minutes.
Reliable Pick-ups: When you request a ride, they'll located a driver and let you track their location on the map. Your drivers name, car details and ratings will appear in the app.
Clear Pricing: Can enter your pick-up and drop-off locations to get a fare estimate before your trip.
Here's how to get riding:
Sign-up for a free account online, or download the Uber app (iOS, Android or Windows Phone)
Enter my promo code uberDealsBlog to get your free CA$15 ride credit
Select the uberX icon, set your pickup location, and request your Uber ride!
Meet your driver curbside – you'll be able to track the exact location of your ride.
Enjoy the ride!
Your ride will be charged directly to your Uber account when your trip is over and you'll receive an emailed receipt.
Click here to sign-up for an Uber account now.
Click here to visit Uber's website for more details about the company.
Happy New Year!