Best Buy: Boxing Day Sale (Starts Online on Dec 24, In-Store on Dec 26)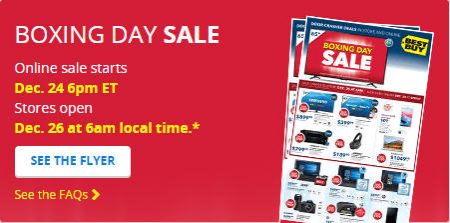 Get ready for Best Buy's Boxing Day Sale!
The sale starts online on Sunday, December 24, 2017 at 6pm EST
Best Buy's in-store sale will start on Tuesday, December 26, 2017 with doors opening at 6am local time.
Check out Best Buy's 91 page Boxing Day flyer to see all the deals.
Best Buy offers free shipping on orders over $35.
Click here to shop Best Buy online now or for more details.
Remember to come back and visit the blog on Boxing Day (Tuesday, December 26, 2017) for a comprehensive list of all the best and hottest Boxing Day deals. Please help tell your friends, family, and co-workers about my blog so they can all take advantage of the deals as well. Happy Holidays!