Aeroplan: Extra 30% Bonus Miles Conversion Promotion (Nov 6 – Dec 11)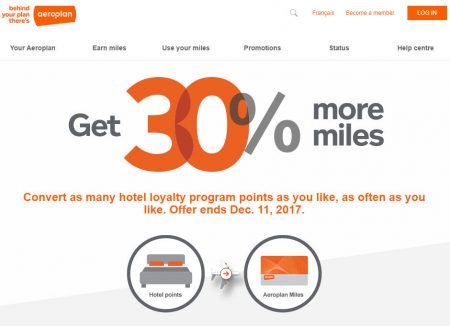 Aeroplan is having a bonus miles conversion promotion.
Get an extra 30% more miles when you convert your hotel loyalty points to Aeroplan Miles.
If you have hotel points that you're not using, it's a good idea to convert them to Aeroplan Miles and get an extra 30% miles boost.
This is a good promotion and still worth doing even though Air Canada will server ties with Aeroplan in 2020. You still have 3 years to use the points. I'll be taking advantage of this offer and will be converting a bunch of points.
Convert your hotel loyalty points into Aeroplan Miles today and you could reach your next reward sooner.

If you collect points from hotel loyalty programs and you're not sure what to do with them, now is your chance to convert them into Aeroplan Miles. You'll even receive a 30% bonus when you convert them before Dec. 11, 2017.
Qualifying hotel partners include:
Starwood Preferred Guest (SPG)
Marriott Rewards
Hilton Honors
Club Carlson
Best Western Hotels & Resorts
Wyndham Rewards
Coast Hotels
Choice Hotels
Le Club Acccor Hotels
Shangri-La Hotels and Resorts
Bonus offer valid only on conversions received from eligible hotel partner loyalty programs points into Aeroplan Miles made between November 6 and December 11, 2017 (11:59 EDT). Bonus Aeroplan Miles will be issued by Aeroplan as follows: once the total Aeroplan Miles are earned by exchanging points from any combination of eligible partner programs during the promotion, the bonus miles deposited will represent 30% of the total miles earned from the exchange, BONUS MILE CREDITING: Bonus Aeroplan Miles may take up to 4-6 weeks to be credited after the promotional offer end date of December 11, 2017.

The total amount of miles received from the conversion of hotel loyalty program points into Aeroplan miles must be greater than or equal to 5,000 Aeroplan Miles in order to be eligible to receive the 30% bonus.

While the conversion of Membership Rewards points from American Express Card members accounts into Aeroplan Miles is still possible, it is not eligible for this bonus miles promotion.

Although eligible CIBC Aventura cardholders as of October 1, 2013, can convert their Aventura points into Aeroplan Miles, these conversions are not eligible for this bonus miles promotion.

Bonus Aeroplan Miles received from the exchange of hotel loyalty program points into AeroplanMiles are not eligible for status in the Aeroplan program. This offer is not applicable to Hotel+Air package redemptions offered by Marriott Rewards and Starwood Preferred Guest.
Click here to visit Aeroplan's website for more details.
Click here to read my travel hacking site RayTravelsFree.com for more tips and news.
Click here to read Travel Hacking post and learn how to get 20,000 Starpoints, enough points to get up to 5 Free Nights Hotel!