Starbucks: 50% Off Any Frappuccino Blended Beverage from 3-6pm (Apr 28 – May 2)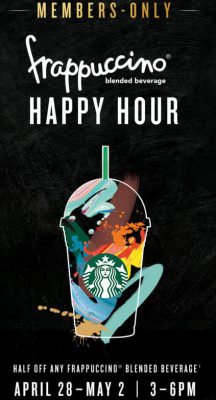 Starbucks' popular Frappuccino Happy Hour is back! This offer is available for Starbucks Rewards Members only. You can sign-up here if you're not a member.
Save 50% off any Frappuccino blended beverage during Happy Hour from 3 to 6pm! The offer is available from April 28 to May 2, 2016.
You don't need a coupon or anything to take advantage of this offer. Just visit a participating Starbucks store near you between 3-6pm local time.
Click here to visit Starbucks' website.
Click here to visit Starbucks' Twitter account for more details.