Exit Calgary: 20% Off All Rooms Promo Code (Jan 1-31)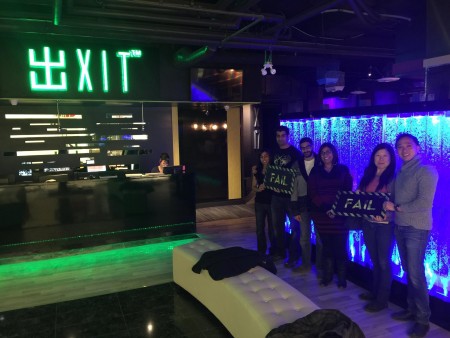 The Ultimate Real Life Gaming Experience has arrived in Calgary!
To celebrate Exit Calgary's Grand Opening, they are offering 20% off all rooms for the entire month of January! Enter the promotion code EXITJAN20 on the booking page to get the discount.
I love Exit Calgary. I went on opening day with a group of friends and had an amazing time. The place is nicely decorated in a prime location just off 17th Ave SW. Staff was friendly and helpful and the puzzles are well designed. We tried the Ninja House and Prison Escape themed room's and had a blast. It was fun and really challenged us. I can't wait to go back and try all of their rooms. Visit Exit Calgary's Facebook page for more reviews.
Exit Calgary is the newest addition to the Exit franchise and the largest escape room facility in Calgary. It's conveniently located in the lower level of the Mount Royal Village building (beside Oasis Spa and GoodLife Fitness) just off 17th Ave SW (60 – 880 16 Ave SW, Calgary AB).
Here's all the details:
Exit Calgary
Mount Royal Village (lower leverl): Unit 60, 880 16 Ave SW, Calgary, A.B.
Website: www.e-exit.ca/
Email: calgary@e-exit.ca
Phone: (403) 475-3948

1 Hour Time Limit to Escape
Price: $25/person including tax. Max 6 people per room

January 1-31, 2016: Special 20% off with promo code EXITJAN20
Only $20/person after 20% off discount!
Book online at www.e-exit.ca

Welcome to Canada's first room escape gaming facility! Inside any one of our adventures players will explore the different realms of EXIT Canada, where you can display your intelligence, marvels and artistry by outwitting the Game Master that involves solving challenging puzzles and discovering exciting clues and escaping within the time limit of 60 minutes. Our rooms cater to a minimum of 2 players and can hold up to a maximum 6 players per theme that offers varying levels of difficulty in which both those of whom are new to escape games or the most experienced can have fun. Grab your team and head over to any one of our various locations to try and escape!

Features 5 Fun and Exciting Themes: Ancient Egypt, Lost Ship, Ninja House, Prison Break, and X17 Space Carrier (coming soon).
Click here to visit Exit Calgary's website to Book Now.
Click here to visit Exit Calgary's website.
Click here to visit Exit Calgary's Facebook page.