Toys R Us: FREE Play Day Family Event (Sept 26)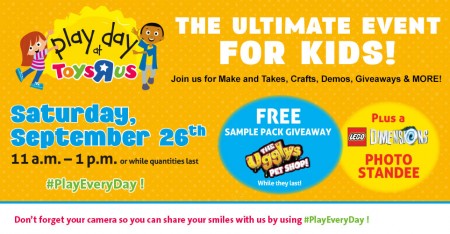 Toys R Us' popular "Play Day – The Ultimate Event for Kids" is back this Saturday, September 26, 2015 from 11am – 1pm or while quantities last! Visit your local Toys R Us store for exciting games, crafts, activities, demos and free give-aways! No purchase necessary. Recommended for kids ages 2+. All giveaways are while quantities last. Activities may vary by store.
NEW! STAR WARS: THE FORCE AWAKENS PRODUCT DEMO STATION
Power up and blast off into out-of-this-world action and galactic adventure with Star Wars! Try the all-new Star Wars Force Awakens toys and see for yourself what makes these toys super cool and fun for all!
Play Day CRAYOLA CRAYON CARVER STATION
Personalize your crayon with a cool engraved message or design! It's easy, safe and fun! Crayons will be provided. One per child.
Play Day GET BUILDING WITH MEGA BLOKS
Kids can choose from an assortment of cool builds and bring their creation home to play with. Selection varies. One build per child.
Play Day MAKE A UNIQUE PIXEL CREATION WITH QIXELS
Build a Qixel design, blast it with water from the Fuse Blaster, let it dry and then create your own pixel world of monsters, warriors, bugs and more. Try this product in-store and pick up a free sample pack to make at home!
Play Day NERF & REBELLE TARGET PRACTICE
Take aim and let the darts fly with the new Nerf N-Strike Modulus ECS-10 blaster. You can customize this motorized Modulus system blaster with the different accessories to create more than 30 combinations! OR Take charge with the elite arrow performance of the Arrow Revolution Bow from Nerf Rebelle! Reveal the beauty of strength and power and compare blasting skills.
Play Day DISCOVER COOL TOYS & GADGETS
Younger kids can play with the ultimate rescue vehicle and their favourite characters from Paw Patrol; move, shake and dance along with BeatBo and laugh out loud with Elmo.
Play Day 3DS ANIMAL CROSSING HAPPY HOME DESIGNER VIDEOGAME DEMO
Select stores only. Schedule to follow.
Click here to visit Toys R Us' website for more details.
Click here to shop Toys R Us online.
Click here to find a Toys R Us Store near you.