Tim Hortons: $1 Smile Cookie is Back (Sept 14-20)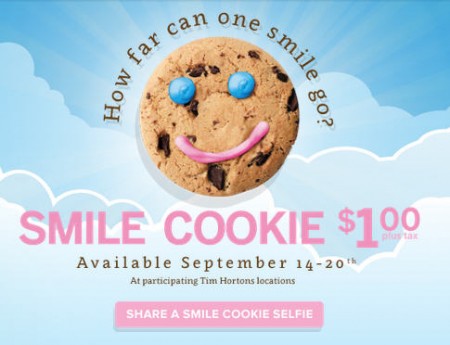 Tim Hortons' popular Smile Cookie promotion is back! Purchase a Smile Cookie for $1 (plus tax) and 100% of the proceeds will be donated to a local charity.
Smile Cookies are available for 1-week only from September 14 – 20, 2015. Get them while you can and support a great cause!
When you purchase a Smile Cookie for $1 (plus taxes) at participating Tim Hortons locations, you're helping support local charities, like hospitals, food banks and children's programs.

100% of the proceeds from every Smile Cookie sold will help support hundreds of charities across Canada.
Click here to visit Tim Hortons website for more details.