Red Lobster: Endless Shrimp Event is Back!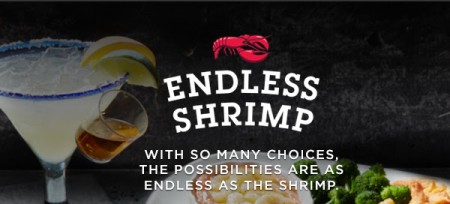 Red Lobster's popular 'Endless Shrimp' event is back! This is Red Lobster's best value of the year. For a limited time, mix & match and eat as much shrimp as you can eat for only $21.99-$22.99 set price (price varies by province).
Endless Shrimp is here at Red Lobster. That means it's time to mix, match and enjoy all our delicious flavours of shrimp. If you're feeling adventurous, try our NEW! Pineapple Habanero Coconut Bites, which are just the right amount of sweet and heat. Welcome back one of our all-time favourites, Teriyaki Grilled Shrimp, which are brushed with a sweet teriyaki glaze while they're still sizzling from our grill. Then reintroduce yourself to some classics like our buttery Garlic Shrimp, our creamy Shrimp Linguini Alfredo, and our crunchy Hand-Breaded Shrimp. All our flavours of shrimp are absolutely delicious. Good thing they're endless.
Click here for to visit Red Lobster's website for more information about this deal.
Click here to find a Red Lobster restaurant near you.