Boston Pizza: Get 5 FREE Kids Meals with $5 Donation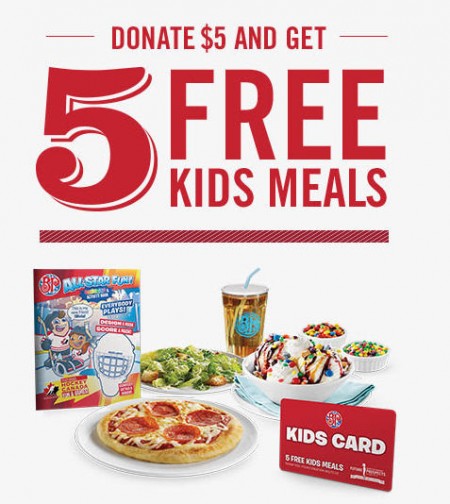 If someone told you that you could get 5 kids meals, for only five bucks, would you immediately gasp with astonishment? Well, relax those raised eyebrows, but keep that face smiling.
The Kids Card is back at Boston Pizza! A $5 donation gets you 5 FREE Kids Meals, with all proceeds going to Boston Pizza Foundation Future Prospects, a program that works in partnership with organizations like Big Brothers Big Sisters, JDRF, Kids Help Phone, Live Different and the Rick Hansen Foundation to mentor kids and help them reach their full potential. Learn more at bpffutureprospects.com.
This is an awesome deal and for a good cause so please support it if you can. You can buy the Kids Card online now.
Free Kids Meals: Terms & Conditions:
Receive one (1) FREE Kids Meal per visit with the minimum purchase of $16. Card may be used on purchase date. Card not valid with any other coupon or promotional offer. Valid for dine-in only. One FREE Kids Meal per child per $16 purchase. Please present card before ordering. No cash value. Price includes all applicable taxes. OFFER EXPIRES JUNE 30, 2016.
Click here to visit Boston Pizza's website for more details or to Buy Online.
Click here to find a Boston Pizza restaurant near you.