Calgary Flames: 2015 Authentic Equipment Sale (June 13, 8am-1pm)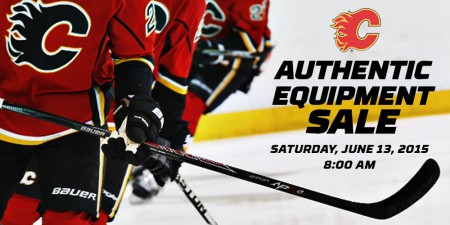 The Calgary Flames are holding their annual 2015 Authentic Equipment Sale this Saturday, June 13, 2015 from 8am – 1pm.
I go to the sale every year. A lot of people camp out and wait in line super early to buy the good stuff. If you're serious about getting anything good, I suggest you go at least an hour early before the doors open to have  a chance of picking up something decent. Popular players equipment are usually sold at a premium (collectors value) and are quickly sold, but you can pick up some nice equipment for cheap that's worn by some less popular players. They often have brand new or barely used stuff on sale as well.
Calgary Flames Authentic Equipment Sale
Saturday, June 13, 2015 8:00AM – 1:00PM
Scotiabank Saddledome FanAttic
(Northeast Entrance near section 212)

All Flames, Hitmen, Roughnecks, Stampeders and Team Canada merchandise will be 35 – 70% off (excluding collectibles and equipment).
Game-used and new equipment available, including sticks, skates, gloves, helmets, goalie equipment and more
Official game used Flames jerseys available from 2012-13 to 2014-15

All 2013-14 game used jerseys available for 25% off – one day only

Door Crasher Specials:

Flames Caddy Polo – $20.00 (Reg Price $49.99)
Flames Ladies Snap Polo – $15.00 (Reg Price $29.99)
Flames Swimwear – Half Price (One Day Only)
Flames Window Shade – $5.00 (Reg Price $14.99)

Enter to Win a Mark Giordano Signed 8×10 Framed Photo (create ballot on bottom)
Exclusive Ticket Holder Offer:

Flames League Cap – Free with purchase *
* Must present valid Ticket Account ID card. Only one available per customer. Minimum $50.00 purchase. While Quantities Last. No further discounts apply.

Exclusive Draw for Ticket Holders: Enter to Win a signed Gary Roberts Retro Premier Jersey or a signed pair of Sam Bennett game used gloves.
Special Autograph Session – Flames forwards Micheal Ferland and Matt Stajan will be on hand to sign autographs from

9am – 10am

.
Sale will be held at the FanAttic location inside the Scotiabank Saddledome near section 212 (Northeast entrance).
Free Parking in Lot A (off 5th Street and 14th Ave SE)
Visit flames.nhl.com or www.flamesport.com for a list of available equipment
All equipment is available on a first come first serve basis once doors are open. Items cannot be purchased or reserved prior to the sale. Listed price ranges for equipment are based on retail cost of the particular item, wear and tear as a result of use, and collectible value. Prices are non-negotiable and all sales are final. For those unable to attend, a detailed list of remaining items will be posted at www.flamesport.com after the sale for order by phone, toll free 1-877-477-2177.Doors will open at 8:00 AM and the sale will also feature door-crasher specials, substantial discounts on regular priced Flames merchandise, prize draws, and various equipment red-tagged at clearance prices. Be sure to follow@FlamesFanAttic on Twitter, or 'Like' Calgary Flames FanAttic on Facebook at www.facebook.com/FlamesFanAtticfor information, equipment pictures, and updates as we often receive more equipment in the weeks leading up to the sale.
Click here to visit the Flames website for more details.