Calgary Flames Playoff Tickets: Flames Insider 2015 Playoff Registration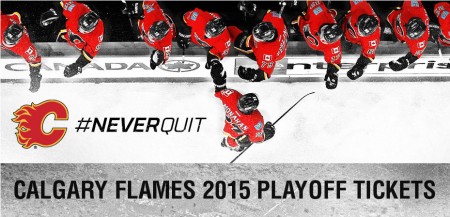 Your Calgary Flames have secured a spot in the 2015 Stanley Cup Playoffs and will be taking on the rival Vancouver Canucks in Round 1!
Due to the incredible amount of demand for Calgary Flames Playoff Tickets, all tickets available for purchase to the general public will be managed exclusively though The Flames Insiders Playoff Ticket registration process. Flames Insiders will get the chance to win tickets or buy with purchase code – so sign up now! Entries from the Playoff Registration will be randomly drawn every game for the opportunity to purchase tickets to designated playoff games.
This is the best way to try and get playoff tickets at Face Value because they are very expensive on the secondary market (StubHub, Kijiji, NHL Ticket Exchange, etc..)
Click here to enter the Flames Playoff Registration.
Go Luck and Go Flames Go!