Tim Hortons: RRRoll Up the Rim to Win is Back! (Feb 2 – Apr 2)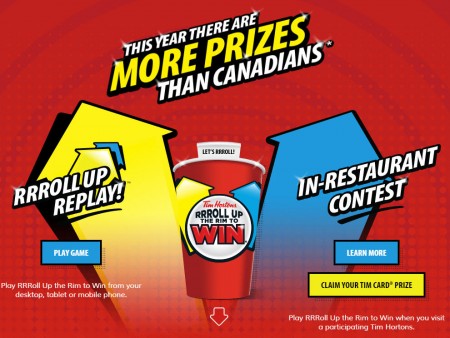 Tim Hortons' popular "RRRoll Up the Rim to Win" promotion is back! The contest starts today (Monday, February 2, 2015) and goes April 2, 2015 or until all contest cups are gone. The odds of winning a prize is 1 in 6. All prize claims must be postmarked by May 3, 2015. Here's a sample of the prizes that you can win:
Over 48 Million Prizes in Total

50 2015 Toyota Camrys Vehicles

100 LG 55″ Curved OLED Smart TVs
100 $5,000 Visa Prepaid Cards
2,5000 $100 Tim Cards
Millions of Tim Hortons Instant Food and Beverage Prizes
Tim Horton is introducing new RRRoll Up Replay. Play RRRoll Up the Rim to Win from your desktop, tablet or mobile phone with RRRoll Up Replay. You can play throughout the day for even more chances to win!
If you're not familiar with Tim Hortons Roll Up the Rim to Win promotion, when you purchase a hot beverage in Canada or in the U.S., you can roll up the rim on the cup to see if you've won a prize.
Click here to visit Tim Hortons' website for more details.
Click here to find a Tim Hortons' restaurant near you.
Good luck everyone!