Checkout 51: Earn Cash Back on your Groceries!
Save on every grocery trip with Checkout 51!
Sign-up with Checkout 51 to save on your favourite brands and earn cash when you upload a photo of your receipt through their mobile app (iPhone and Android) or website.
Every Thursday morning, Checkout 51 updates with a new list of offers. All you have to do is pick the ones you like, purchase them at any store, and upload a photo of your receipt through their mobile app or website. When your account reaches $20, they'll send you a check.
I've been using Checkout 51 for a couple months and recommend it. It's an easy way to earn cash back on your groceries.
Here's a sample of this week's offers (new offers every Thursday):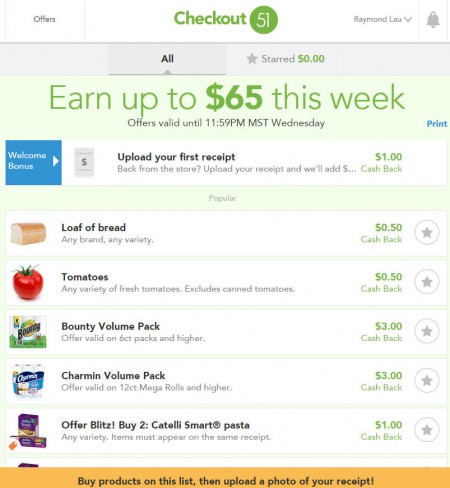 How It Works:

1. We help you save money on your groceries every week.

2. Every Thursday, we update your offers and they're live until the following Wednesday.

3. Browse your offers to find products to save on.

4. Then, head to any grocery store, buy the products and keep your receipt. Be sure to buy products and upload your receipt while the offers are live.

5. Use the app to upload photos of your receipt.

6. We'll process your receipt and add the savings to your account. Once you have $20, cash out and we'll mail you a check.
Click here to sign-up for a free Checkout 51 account and start saving now.