Travel Hacking: Another Free Flight Offer – FREE 25,000 Bonus Miles with AMEX Gold Rewards Card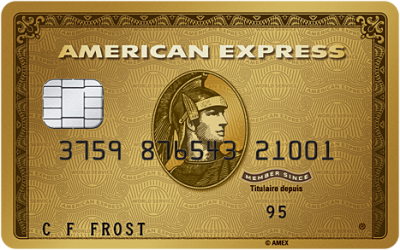 It looks like American Express has finally ended their incredible AeroplanPlus Gold Card promotion. AMEX is no longer waiving the first year's annual fee ($120 value) and they've dropped the free Aeroplan bonus miles from 30K to 26K. I hope this is only temporary and the offer will be back soon. You can still refer people and get 10K bonus miles for each approved referral.
The good news,  American Express Gold Rewards Card promo is still available! It's very similar to the AeroplanPlus Gold Card offer. The annual fee is waived the first year ($150 value) and you get 25K free bonus Membership Rewards points for signing up for the card! AMEX Membership Rewards points are very flexible and can be transferred one-to-one to Aeroplan. Here's a full list of all the Loyalty Programs that you can transfer your points to. The best part about this offer is you can refer your friends & family and get 10K bonus miles for each approved referral!
Even if you already have the AeroplanPlus Gold Card, you can still sign-up for the Gold Rewards Card and get the free 25,000 bonus points. I personally have both cards and think the Gold Rewards Card looks 10 times nicer then the AeroplanPlus card.
I took some convincing before I took this offer, and I'm incredibly glad that I did. Here's why this deal is awesome:
With 25,000 free Membership Points which you can transfer to Aeroplan 1 to 1, you can get a round-trip flight to anywhere in North America, or 2 round-trip short hauls flights for free!  Or save up more points and travel to other destinations for free!  See where else you can fly with Flight Reward Chart.
The first year is absolutely free ($150 value), so if you decide the card is not for you, just cancel it and you get to keep the 25,000 free bonus points! You can cancel the card at anytime without a penalty and keep all your points.
AMEX is a charge card, not a credit card, which means that it doesn't hit your credit score as hard as a credit card would.  A charge card only does a soft credit pull. The difference between the two is that you must pay off your balance every month, or else you'll be charged a higher interest rate.  If you always pay off your card, then it doesn't even matter!
The very best part of this deal, and the reason I've earned over a million points in the last six months is that AMEX has a referral program.  If you refer someone to sign up for the card under you, you get an extra 10,000 free bonus points for each approved referral!  There is no limit on what you can earn! You'll get your own referral link after you sign-up and activate the card. Note: You'll only get the referral bonus when you refer cards within the same family you own (Ie. You can only refer the AMEX Gold Rewards Card if you have the AMEX Gold Rewards Card).
If you consider all the points, this is a deal you can't ignore! Worst case, you take the 25,000 free points, and cancel the card before the first year, and best case, you refer plenty of friends and family and manage to rack up your very own round-the-world-trip! My original plan was just to sign-up for the card, get the free bonus points, and then refer my wife for the extra free points, but a great deal sells itself and it's been astonishingly easy to get referrals. This exclusive offer is valid for Canadians only.
Click here to get your FREE 25,000 Membership Bonus Points and start Travel Hacking now!