McDonald's: New McDonalds Canada Coupons!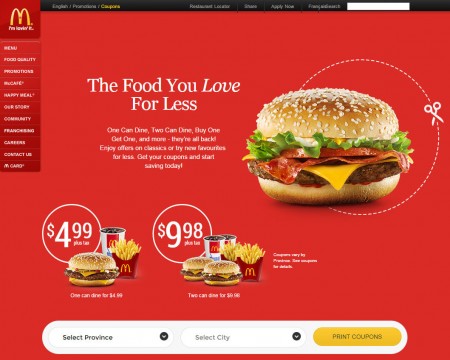 McDonald's Canada has released a bunch of new coupons! I recently received McDonald's coupon booklet in the mail. You should expect it in the mail soon if you haven't already received it yet.
If you can't wait for the coupons in the mail or need more, you can always visit McDonald's website or download McDonald's mobile app (iTunes or Google Play)! I find it more convenient and easier to just download McDonald's app and display the coupons on my mobile phone instead of having to physically cut and use the coupons. The coupons vary by province and are valid now until the end of September 2014 or early October 2014.
The coupon's vary by province, but typically include the following:
Buy One, Get One Free

2 Can Dine

Meal Deals

Breakfast Deals

+ more…
Click here to visit McDonald's website to print your coupons.
Note: At the time of this post, McDonald's website was displaying coupons for all province's except Alberta and BC. I'm sure they'll add it shortly, but here's Alberta's and BC's coupons.
Enjoy the savings!