SHOP.CA: The 1,000,000 Aeroplan Mile Giveaway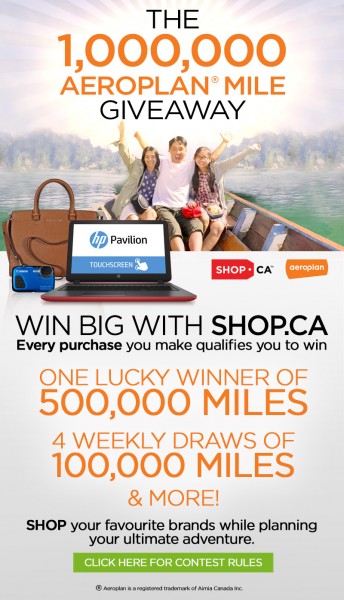 SHOP.CA is giving away 1,000,000 Aeroplan Miles! Every purchase you make at Shop.ca from August 12th to September 8, 2014 qualifies you to win.
There are seven (7) prizes to be awarded consisting of a total of One million (1,000,000) Aeroplan Miles allocated as follows:
Four (4) prizes each consisting of 100,000 Aeroplan Miles,
Two (2) "runner up" prizes consisting of 50,000 Aeroplan Miles
One (1) Grand Prize of 500,000 Aeroplan Miles
The Contest begins at 12:00 am ET on August 12th, 2014 and closes at 11:59 pm EST on September 8th, 2014 (the "Contest Period"). To enter the Contest, Eligible Participants must make a purchase from SHOP.CA during the Contest Period.
Here's a couple Insider Tips:
SHOP.CA is offering 10X Aeroplan bonus miles per dollar spent on your first purchase after appending your Aeoplan number to your SHOP.CA account. This offer is available until September 14, 2014.
SHOP.CA is giving away free $15 off $30 purchase promo codes. Click here to request your unique promo code. The codes expire on August 31, 2014.
Click here to visit Shop.ca for all the details about this offer.
Click here to make a purchase on Shop.ca
Click here to read my Travel Hacking post and learn how you can easily get 55,000 FREE Aeroplan Miles, enough points for (2) free flights to anywhere in North America!