HOT DEAL: Buytopia.ca – Tim Hortons Gift Card Deal!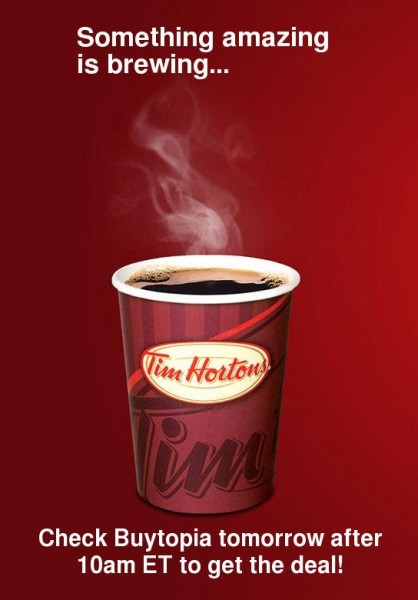 I got an email from Buytopia.ca on Monday with a huge Tim Horton's cup telling me to check their site on Tuesday, August 19th starting at 10am ET (8am MT, 7am PT).
I'm assuming Buytopia will be offering a special Tim Hortons deal! The deal will start at 10am ET. Hurry, the deal is going to be a very hot seller and will likely sell-out quick so I suggest going to Buytopia.ca right at 10am ET (8am MT, 7am PT) if you want to buy the deal. Buytopia.ca featured a similar Tim Hortons' deal a couple weeks ago '$6 for $10 Gift Card and sold-out all 5,000 vouchers in a day.
Highlights from Buytopia's previous Tim Hortons deal:
40% in SAVINGS at Tim Hortons!
$6 for a $10 Gift Card
Valid at ANY Tim Hortons where gift cards are accepted
Canada's favourite coffe shop!
More than 3,000 locations across Canada and over 600 locations in the US
Tim Hortons offers a variety of delicious coffees, teas, donuts, muffins, cookies, paninis, wraps, sandwitches, soups and more!
Click here to go to Buytopia.ca now or to view all of their daily deals.
Good luck and enjoy!