TasteAway.com: 40% Off Pickup or Delivery Promo Code (Until July 10)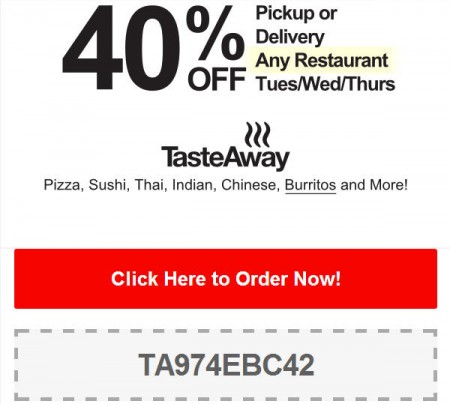 You can save an amazing extra 40% off any pickup or delivery order at any restaurant on TasteAway.com when you enter the promo code TA974EBC42 at checkout! The offer is valid on any order paid online by credit or debit until Thursday, July 10, 2014 at 11:59 PM. The offer is valid once per day per customer with a maximum discount of $40 ($100 order before taxes and other charges).
I've been using TasteAway a lot lately and highly recommend it if you order take-out or delivery.  There's lots of great restaurants to choose from and as everything from Pizza, Chinese, Sushi, Indian, Wings and much more.
What is TasteAway?
TasteAway is the easy way to order online from local restaurants for Delivery or Takeout without or order confusion. Order Pizza, Chinese, Sushi, Thai, Indian and more.

Search, Order, Eat!
Build your perfect customized meal and order it online. They'll beam it to the restaurant and send you an order confirmation by email.

It's 100% Free, No Fees!
No fees or marked-up menu prices. Pay online with Credit or Debit, or directly to the restaurant with cash.

Points & Discounts!
Exclusive Deals, Discounts and Points for Members (email promotions).
Click here to place an order on TasteAway now or for more details.