Starbucks: Treat Receipt – Bring Back Morning Receipt, Get a Grande Beverage for $2 (July 14 – Aug 10)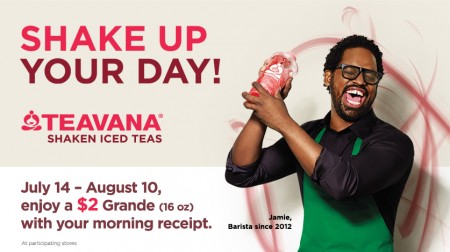 Starbucks' popular "Treat Receipt" promotion is back! Bring your morning receipt in after 2 p.m. at Starbucks and you can get a tasty cold Grande beverage (16oz) for only $2 plus tax! This offer is valid from July 14 – August 10, 2014 at participating stores.
From July 14 – August 10 at participating stores, you can bring in your morning receipt after 2 pm the same day and enjoy a Grande (16 oz) Teavana® Shaken Iced Tea, or any other handcrafted iced beverage or Frappuccino® blended beverage for only $2 plus tax.

Available at participating stores. Limit one per customer per visit. Cannot be combined with other offers or discounts.
Click here to visit Starbucks Canada's website for more details
Click here to find a participating Starbucks location.