ENDING SOON: Aeroplan – FREE 30,000 Aeroplan Bonus Miles – Amex AeroplanPlus Gold Card (Ends July 14)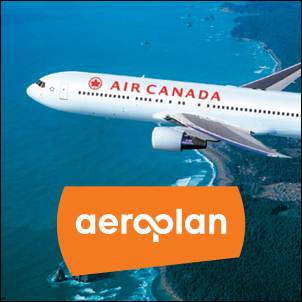 Ending Soon Update: It looks like American Express is going to end this awesome promotion soon. All applications must be received by July 14, 2014 to get the Free 30,000 Aeroplan bonus miles. Sign-up now if you haven't yet and don't forget to tell all your friends about this offer. You'll earn an extra 10K Aeroplan bonus miles for each approved referral!
Reminder Update: I originally posted about this amazing freebie five months ago. It's one of my all-time most popular posts. Pretty much everyone I know has taken advantage of this offer so don't miss out!
I've been blogging deals for a long time and this is the best freebie and travel offer that I've ever seen! This is the first travel rewards card that enticed me to sign-up and share with my friends and family.
Have you ever wanted to take your kids to Disneyland, see the light and spectacles of Las Vegas, or visit family somewhere across the country? Wouldn't it be great if this could be done for free? With travel hacking, this is entirely possible! Travel hacking is a method to gather points from loyalty programs and travel for free or at a heavily discounted price.  Here's how you can get 2 free short-haul flights or a free flight to anywhere in North America with Air Canada's Aeroplan loyalty program!
For a limited time, American Express is having a friends and family promotion offering everyone an incredible 30,000 FREE Aeroplan bonus points when you sign-up for the American Express AeroplanPlus Gold Card!  You only need 30,000 points for (2) round-trip short haul flights or 25,000 points for a free round-trip flight to anywhere in North America! American Express is also waiving the annual fee for the first year ($120 value) which means there's zero cost to you making this an unbelievable freebie!
You might think that it's just another credit card offer, and normally, I would agree with you, but with this deal, in just the last 4 months alone, I've been able to earn over a million points, enough for multiple around-the-world-trips for my entire family!

I took some convincing before I took this offer, and I'm incredibly glad that I did. Here's why this deal is awesome:
With 30,000 FREE Aeroplan bonus points, you can get a round-trip flight to anywhere in North America, or 2 round-trip short hauls flights for free!  Or save up more points and travel to other destinations for free!  See where else you can fly with Flight Reward Chart.
The first year is absolutely free, so if you decide the card is not for you, just cancel it and you get to keep the 30,000 free Aeroplan points! You can cancel the card at anytime with a penalty.
AMEX is a charge card, not a credit card, which means that it doesn't hit your credit score as hard as a credit card would.  A charge card only does a soft credit pull. The difference between the two is that you must pay off your balance every month, or else you'll be charged a higher interest rate.  If you always pay off your card, then it doesn't even matter!  Also, finally a card that you can use at Costco!
The very best part of this deal, and the reason I've earned over a million points in the last four months is that AMEX has a referral program.  If you refer someone to sign up for this card under you, you get an extra 10,000 free bonus points!  There is no limit on what you can earn! You'll get your own referral link after you sign-up and activate the card. People will want to use your referral link because they'll get 30K points with your link vs only 20K points if they sign-up directly through AMEX.
If you consider all the points, this is a deal you can't ignore! Worst case, you take the 30,000 free points, and cancel the card before the fee is up, and best case, you refer plenty of friends and family and manage to rack up your very own round-the-world-trip! My original plan was just to sign-up, get the 30,000 points, and then refer my wife for another 40,000 points, but a great deal sells itself and it's been astonishingly easy to get referrals. This exclusive offer is valid for Canadians only.
Click here to get your FREE 30,000 Aeroplan Bonus Miles and start Travel Hacking now!
Enjoy!