Starbucks: 50% Off Frappuccno Happy Hour from 3-5pm (May 1-10)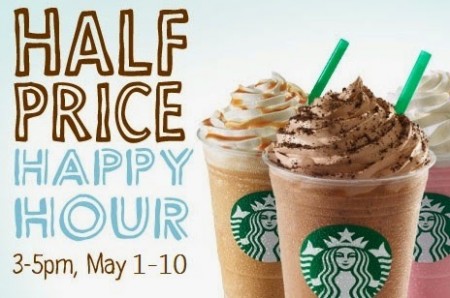 Starbucks' popular Frappuccno Happy Hour is back! Starting Thursday, May 1st until Saturday, May 10th, 2014, you can save 50% off all Frappuccino Blended Beverages from 3-5pm!
Here's a list of all the Frappuccino drinks on Starbucks menu. My favourite is Mocha Cookie Crumble (only available during the summer).
You don't need a coupon or anything to take advantage of this offer. Just visit a participating Starbucks store near you between 3-5pm.
Sign-up to Starbucks Rewards loyalty program and get exclusive offers like free drinks, refills and food.
Click here to visit Starbucks' website.
Click here to visit Starbucks Canada Facebook page for more details.