Future Shop: $10 Off All Pre-Order Games (Until Apr 21)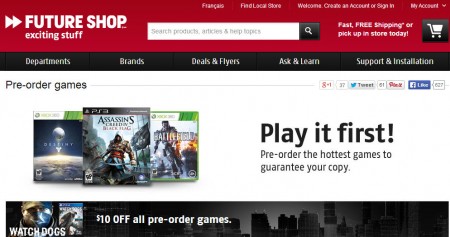 Until Monday, April 11, 2014, Future Shop is offering $10 off all pre-order video games! Pre-order those hot titles and you'll guarantee your copy – it's the best way to make sure you're one of the first people on the planet to play that video game. The discount will be automatically applied when you add the game to the online shopping cart.
The offer includes all video game consoles: PS4, Xbox One, Xbox 360, PS3, PS Vita, Wii U, Nnitendo 3DS, PC games.
Guarantee your copy!

Pre-orders ensure you get your copy, especially important when it's that limited quantity collector's edition!
Get the lowest price, guaranteed.

Pre-order online and if the price drops on or before release date, you will be charge the lowest price, guaranteed.
Click here to visit Future Shop's website for more details.