Sephora: Get 10% Cash Back through Ebates.ca (Until July 21)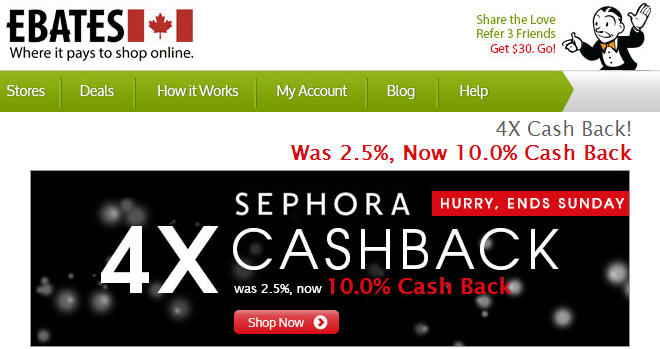 Ebates.ca is offering 4X Cash Back (was 2.5%, now 10% off) at Sephora! You can get 10% (normally 2.5%) of your purchase in Cash Back if you shop at Sephora.ca through Ebates.ca! The 4X cash back offer is only available until Sunday, July 21, 2013.
To take advantage of this offer, all you have to do is follow these steps:
Sign-up for a Free Ebates account if you don't already have one.
Then search for "Sephora" on Ebates.ca to shop at Sephora.ca.
Make a purchase on Sephora's website. Ebates will then mail you a cheque for 10% of what you spend!
This is a great way to save money when you shop online. If you don't have an Ebates account – it only takes 15 seconds to sign up for an account. I have been using Ebates for about 8 months and have received over $150 cash back. The site is legit. What Ebates does is split the commission that they get from the merchant and give you back half of it. The Cash Back is through Ebates.ca and will be added to your account once your purchase has been processed by the merchant, usually within 2 – 5 business days.
Sephora offers free shipping on orders over $75.
Click here to sign-up for a Free Ebates.ca account now or for more details about this offer.