Red Lobster: $8.99 Lunch Specials & $10 Off 2 Entrées Coupon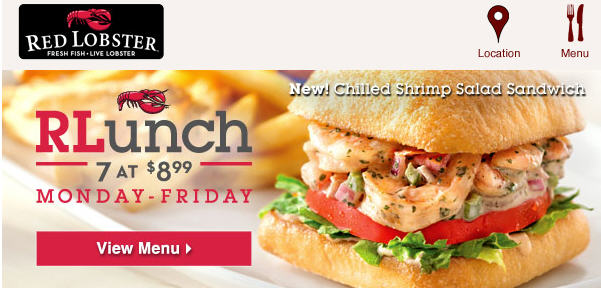 Red Lobster recently introduced their RLunch Menu where you can enjoy 7 items for only $8.99. The offer is only available Monday-Friday from 11am to 3pm. You can choose from a variety of sandwiches, salads, and more. All served with Signature Biscuits.
RedLobster.ca also has a coupon that will save you $10 off the purchase of 2 Signature Combination Entrées. The coupon is valid Monday-Thursday until August 8, 2013. You'll need to register your name and email to receive the coupon.
FUN FACT: My first ever job was working as a dish washer at Red Lobster. It was nasty! The servers would constantly splash stinky seafood water all over me whenever they put the dirty dishes down. I worked there for about a year and a half. I started off as a dish washer, got promoted to line cook and then the guy who baked all the biscuits.
Click here to visit Red Lobsters website for more details about both offers.
Click here to find a Reb Lobster restaurant near you.