Golf Town: $150 for TaylorMade Burner SuperFast 2.0 Driver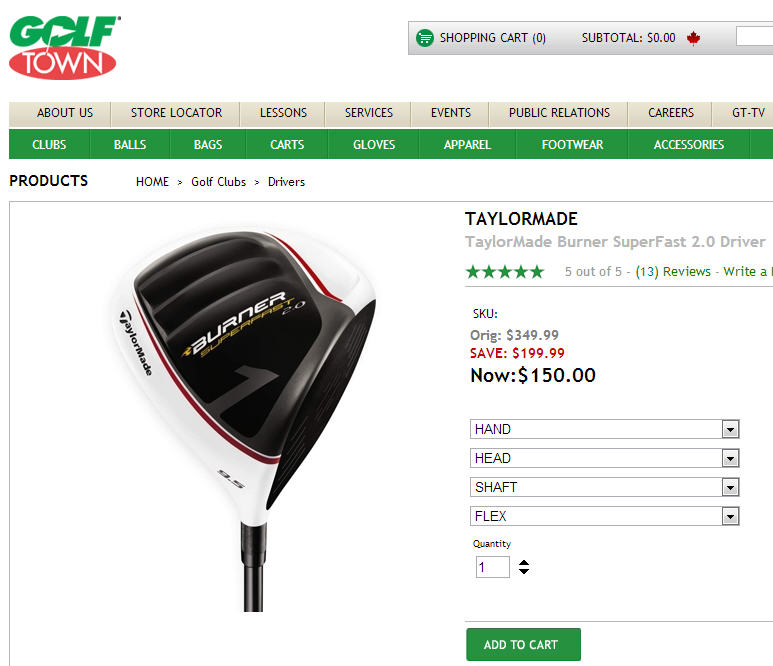 TaylorMade Burner SuperFast 2.0 Driver is currently on sale for $150 at Golf Town. This is a pretty good deal even though the driver came out a couple seasons ago. It retailed for $349.99 when it first came out. I believe this sale is available online only. I was at Golf Town yesterday and saw it advertised in-store for $200. I'm sure you can get them to price match their online price if you asked.
If you're in the market for a new driver, but don't have the budget (Ie. $400+) for a new top of the line driver, you should take a good look at this club.
This is the driver that I have in my bag and I have nothing but great things to say about it. I love the white non-glare crown and black clubface.
Driver Overview:
Long, Lighter and Faster Means More Power than Ever

• Long shaft, lighter weight and new low-drag aerodynamics promote faster swing speed for more distance
• Lightest TaylorMade driver ever
• Bigger, deeper clubface works with low CG to promote higher launch/lower spin for increased distance
• New head shape and Inverted Cone face technology create the largest sweetspot of any TaylorMade driver
• White non-glare crown and black clubface makes alignment easy
• Shaft: Matrix X-CON 4.8
Click here to visit Golf Town's website to buy the club or for more details.