Chapman's: FREE 2013 Calendar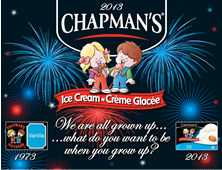 You can request a FREE 2013 Calendar on Chapman's Kids Club website. Once you fill out the online form, Chapman's will mail a 2013 calendar to you within four to six weeks. Calendars will only be shipped to Canadian addresses only.
Click here to get your free 2013 Chapman's calendar.