Apple: iPhone 5 comes out today! (Sept 21)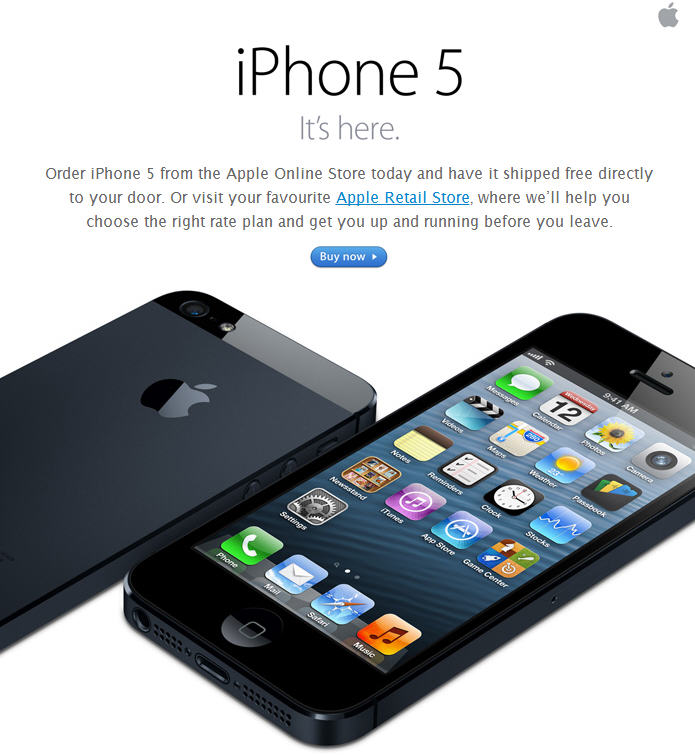 Apple's iPhone 5 comes out today (Friday, September 21, 2012)! I'm a huge Apple fan so I'm am very excited about this. I pre-ordered the phone a couple hours after Apple started taking pre-orders, but won't receive it until Oct 9 🙁
You can order the iPhone 5 from Apple's Online Store today and get free shipping to your door, but there's a 3-4 week wait. If you want it sooner, you can line-up at your local Apple Retail Store or try your luck at any place that sells phones.
I've read that you can only order the "Unlocked" version online (starting at $699). The Apple Retail store will not be selling the "Unlocked" version so don't bother lining up if that's what you want. They will only be selling locked versions when you sign-up for a new contract or do a hardware upgrade. From what I can tell, all the major cell phone carriers (Ie. Rogers, Telus, Bell, Fido, Virgin, etc…) are charging $179 for the 16GB iPhone 5 on a 3-year contract.
I'll keep an eye out for cheap iPhone 5 cases and accessories.
Do you plan on getting the iPhone 5? Post in the comments if you're able to buy one today without having to wait.
Click here to visit Apple's website for more details about the phone or to place an order.
Enjoy! Press the "Like button" at the top of this post if you like this deal and to share it with friends and family.