Best Buy: The Big Deal Event (Jan 22-24)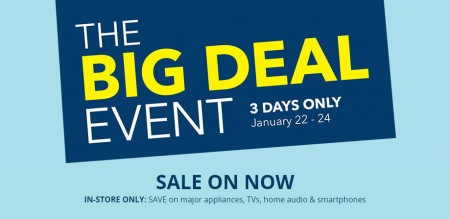 Save on major appliances, TVs, home audio & smartphones at Best Buy during their 'The Big Deal Event'. The 3-day sale is available in-stores only from January 22-4, 2016.
Why can't I get these deals online?
Since we set our own prices, sometimes we'll offer you deals below the price manufacturers allow us to show online. In order to see the price, please visit a Best Buy store January 22 – 24th.
Click here to visit Best Buy's website for more details about the sale.
Click here to find a Best Buy store near you.