HOT DEAL: WagJag – $199 for Xbox 360 4GB Console with Kinect and 2 Games + Free Shipping (Save $139 or 41% Off)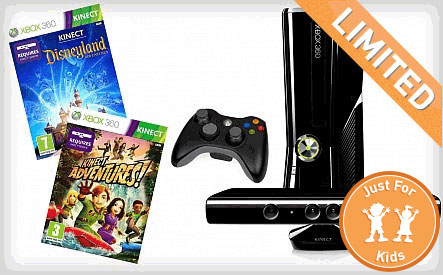 WagJag National Deal of the Day: $199 for the Xbox 360 4GB Console with Kinect* (a $338 Value) – Shipping Included
WagJag is offering an Xbox 360 4GB Console with Kinect and 2 Games for only $199 including Free Shipping! That's a savings of $139 or 41% off! This is the 2nd time that I have seen a daily deals site feature a gaming system! WagJag featured this same deal 2 months ago and it sold-out pretty quickly. This is you 2nd chance to take advantage of this deal if you missed out before.
The deal is going to be a hot seller so don't miss out!
Highlights
Includes the Kinect Disneyland Adventures Game, Kinect Adventures Game and 1 wireless controller

Built-in WiFi and Ethernet connection

You become the controller with Kinect

Watch HD movies and stream TV with Xbox LIVE
This is a limited 1-week only sale that will expire at midnight on Saturday, April 27, 2013. Click here to buy now or for more information about the deal. Quantities are limited so don't miss out!
Offer Details
This product will be shipped directly to the address listed in your account profile
Allow 2-3 weeks for shipping from the deal closing date
Max 1 buy per person per address
No additional charges. No cash value. No cash back
Limited quantities available
The Xbox 360 Console (R) with Kinect (TM) brings entertainment to life. Get your whole body into the game with Kinect, a full-body tracking sensor that listens to your voice and senses your body movements – you become the controller. See Mickey Mouse while exploring the park in your Kinect Disneyland Adventures game? Then give him a hug, get his autograph or take a snapshot. You're in control with Kinect. Also included is Kinect Adventures Game, which gives you the ability to float in outer space, ride down roaring rapids and take on mountaintop obstacle courses. For hands-on gaming, a wireless controller with a 30 ft. range allows you to play the latest Xbox games. Use your WiFi network to connect to Xbox LIVE (subscription fees may apply) and you'll be able to join in on multi-player fun with friends from all over the world, stream HDTV and movies, download game add-ons, play your favourite tunes on Last.fm, connect with your Facebook friends, or tweet about your system ("Hanging out with Donald Duck and Minnie Mouse in Disneyland! #ThanksXbox").
The Xbox 360 is the only console with 802.11n built-in WiFi (that's tech talk for superfast streaming, downloading and multiplayer gaming). It's also equipped with five USB ports, plus a standard Ethernet port, an HDMI output and an optical audio out port for easy connection to your A/V receiver. For all the tech specs, visit the Xbox website.
Frequently Asked Questions:
Q: Can multiple orders be combined so only one shipping charge is incurred?
A: There is no shipping charge. Multiple orders can be combined for this deal but only one shipping address can be used upon checkout.

Q: Can you provide an approximate shipping timeframe?
A: The estimated shipping time is 2-3 weeks from date of deal closing.

Q: What is the exchange policy?
A: For refunds or exchange, please contact us at WagJag. Please review our refund policy for further details.

Q: Can orders be tracked?
A: Yes, tracking numbers will be provided upon shipping.

Q: Can customers opt to pick up product if they are close to the supplier?
A: This deal is delivery only. There is no pick-up option.

Q: Can this product ship outside of Canada?
A: No

Q: Where is the product being shipped from?
A: British Columbia
Click here to buy now or for more information about the deal. Don't miss out!