Schticky: $19 for a Schticky Reusable Lint Roller 3-Piece Set + Free Shipping (46% Off)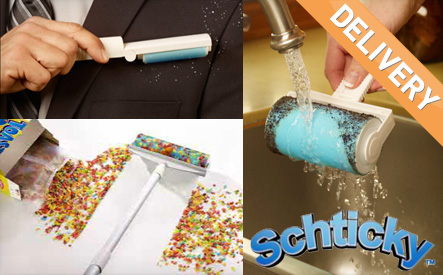 WagJag National Deal of the Day: $19 for a Schticky Reusable Lint Roller 3-Piece Set (a $35 Value) – Shipping Included
Buy now for only $19
Value $35
Discount 46% Off
You Save $16
Today's WagJag featured deal of the day only costs $19 for a Schticky Reusable Lint Roller 3-Piece Set including free shipping (a $35 Value)! That's a savings of 46% off! You can stock up on the deal as you may buy unlimited vouchers for yourself and as gifts.
This deal is going to be a hot seller so don't miss out!
Highlights
1 Schticky

1 Little Schticky

1 Big Schticky

Silicone reusable lint rollers

Rinse clean with water

As seen on TV
This is a limited 1-week only sale that will expire at midnight on Tuesday, April 16, 2013. Click here to buy now or for more information about the deal. Quantities are limited so don't miss out!
Offer Details
Voucher is for confirmation purposes only
This product will be shipped directly to the address listed in your account profile
Unlimited buys
Product will arrive within 2-6 weeks of deal closing date (April 16)
Shipping included. No additional charges
Voucher has no cash value
Schticky
The Original Schticky cleans your home in a quicky.
Clean homes are more likely to attract invited guests and less likely to attract abrasive TV pitchmen touting cleaning supplies. Ready interiors for their close-ups with a set of three Schticky reusable lint rollers. The original Schticky is designed to lift pet hair, crumbs and other debris from fabrics in your home or car, or pick up dry spills on counters and other hard surfaces. The Little Schticky's pocket-sized portability make it an on-the-go tool to keep your clothes pristine, wherever you are. Also included is the Big Schticky, a broom-sized cleaner to remove debris from carpeting and hard flooring, or to take down hard-to-reach cobwebs. All three Schtickys rinse clean under running water, and once dry are ready to use again and again.
We Love It Because…
It cleans lint, pet hair and crumbs off fabrics from wool to velvet
The washable surface creates less waste than paper lint rollers
Three sizes tackle all kinds of messes
How this Deal Works
This product will be delivered to your home by WagJag. Here's how to get it:
1) Click the "Buy" button.
2) Verify your shipping information when prompted at checkout.
3) That's it! Orders will be delivered to your door.
Click here to buy now or for more information about the deal. Don't miss out!