Target Canada: Liquidation Sale – Save up to 30% Off Everything (Starts Feb 5)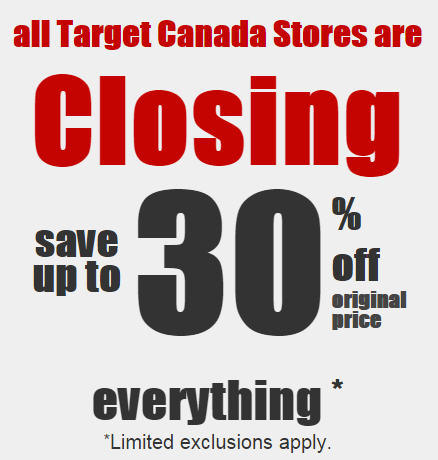 After Target Canada announced that they'll be closing all 133 stores in Canada about a month ago, Target Canada will start it's Liquidation Fire Sale today (Thursday, February 5, 2015). Save up to 30% off the original price on everything in-store. Limited exclusions apply.
It's the news many shoppers have been waiting for: Target Canada liquidation sales are set to hit all stores this Thursday, according to internal company emails obtained by CBC News.
The liquidation sale will likely last a total of 7-8 weeks. A lot of shoppers are expected to rush the stores on Thursday, February 5th like Black Friday. The store is going to be very busy. Please remember to be patient and be polite to all Target employees as all 17,600 of them will lose their jobs when the stores close.
Click here to visit Target Canada's website for more details.
Click here to visit CBC New's website for more details.